Members have been installing cheap VoIP telephones, for extra communication capabilities using the free for Hams service. Hamshack Hotline.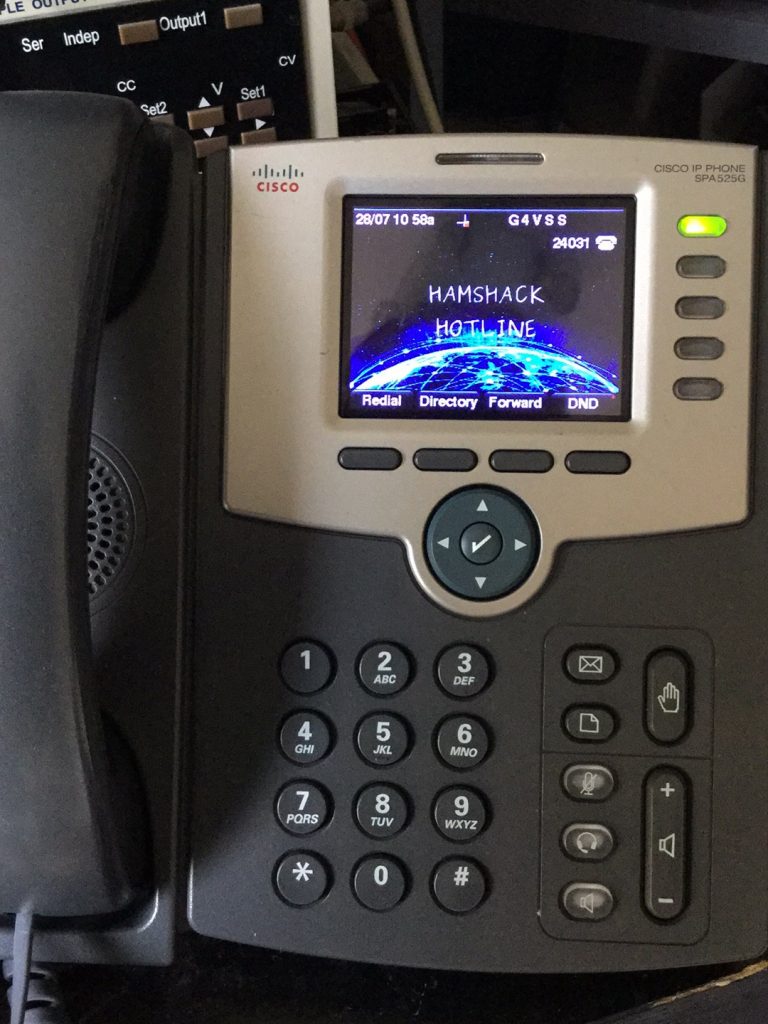 Application for your phone number is straightforward by email, provisioning can be a challenge, but most problems can be overcome by a chat with those who have already got connected !
https://apps.wizworks.net:9091/search.php
provides a search page for all aspects of the service , for example ask for all UK phones and a directory list of numbers allocated with UK are provided.
Ip phones are readily available new and second hand eBay being a good source of cheap units ,look at the list of supported phones on the Hamshack hotline site before buying as this makes provisioning of service much more straightforward.

Expect to pay between £25 and £40 for a full featured unit the example in the picture above is the Cisco SPA 525G ,make sure any secondhand unit is unlocked from its previous provider ,these feature phones have things like apps for weather and local news reports etc. As well as the useful conference facility and ability to call astrix services like Allstar !

join the fun !
Call
Name
Location
Exchange
Phone Number
1958
G4VSS
MIKE
WARRINGTON
UK
UK
HHEU
24031
2181
G0AMU
LEE
WARRINGTON
UK
UK
HHEU
24036
1966
M0LCR
VINCENT
STRETTON
UK
UK
HHEU
24032
1967
G8KBB
DAVE
WARRINGTON
UK
UK
HHEU
24033
2008
M0MOI
STEPHEN
WELLINBOROUGH
UK
UK
HHEU
24034
2009
G1DVA
PAUL
LYMM
UK
UK
HHEU
24035

EA5JDQ
Jeff
Alacante
ES
AF
HHEU
4200000135
2365
G0WRS
CLUB
GRAPPENHALL
UK
UK
HHEU
24039
https://apps.wizworks.net:9091/results.php Link to international Phone Book
A set up video with extras!
An update to DNS has seen some changes this was posted on the new Discord page:
We now have an HTTP provisioning method. You can use the below HTTP script in your browser:
http://x.x.x.x/admin/resync?http://apps.hamshackhotline.com:2443/spacfg-$MA.cfg
(Where x.x.x.x is the IP address of your phone)
Note: Re-provisioning will erase customized data you have. Make sure you write down any customized data so you can re-enter it. (edited)
29 July 2022
Phone Firmware latest